Navratri Special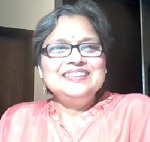 Khandavi from Singhada Flour
Friends! Navratri festival is near, from 13th April Navratri festivals are going to start. Almost all of us will have fast and will be busy to prepare some Falahari foods to eat during fasting. So why not make Khandavi from Singhada or Indian Water Chestnut flour… How? Let us learn from Archana Garg…
______________Dr. Purnima Sharma…
Khandavi from Singhada or Indian Water Chestnut flour… with Almond and Date Chutney…
Cooking time: 10 mins
Prep time :30 mins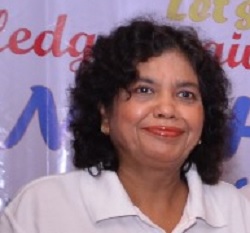 Serves :4
Ingredients
1 cup: Singhada Flour
2 cups: Mattha (buttermilk)
1/4 cup: Grated coconut
1/4 cup: Grated carrot
As per taste: Salt
2-3: Green Chillies
3-4: Singhade (Water Chestnut)
3-4 cut in round shape for decoration
capsicum: Few twigs for decoration
Coriander: For tadka
Oil: 5-6 spoons
Almonds: 1/4 cup
Coriander
3-4: Green Chillies
As per taste: Salt
2 tsp: lemon juice
Method to cook:
Mix atta with cold buttermilk. Make sure there are no lumps.
Heat a pan and add this mixture. Keep stirring till it resembles a halwa like texture. Take a little on a plate and see that it doesn't stick.
Clean the kitchen slab and spread the mixture on the slab.
Put a plastic on top of it and spread it evenly using a belan (Rolling pin) into a thin layer.
Take out the plastic and cut into thin strips.
Keep it in a plate and add tadka of coconut, green chillies and coriander.
Decorate with carrot, capsicum, green chilli and coriander.
You can use Singhada for decoration
For chutney, grind green chillies, almond, coriander and salt in a mixer to a fine paste.
Add lime juice and enjoy with khandavi.
Nutrition value of Singhada: it is low in calories. It has potassium, zinc, iodine, vitamin B and E. It acts as a coolant and detoxifier.
___________________Archana Garg