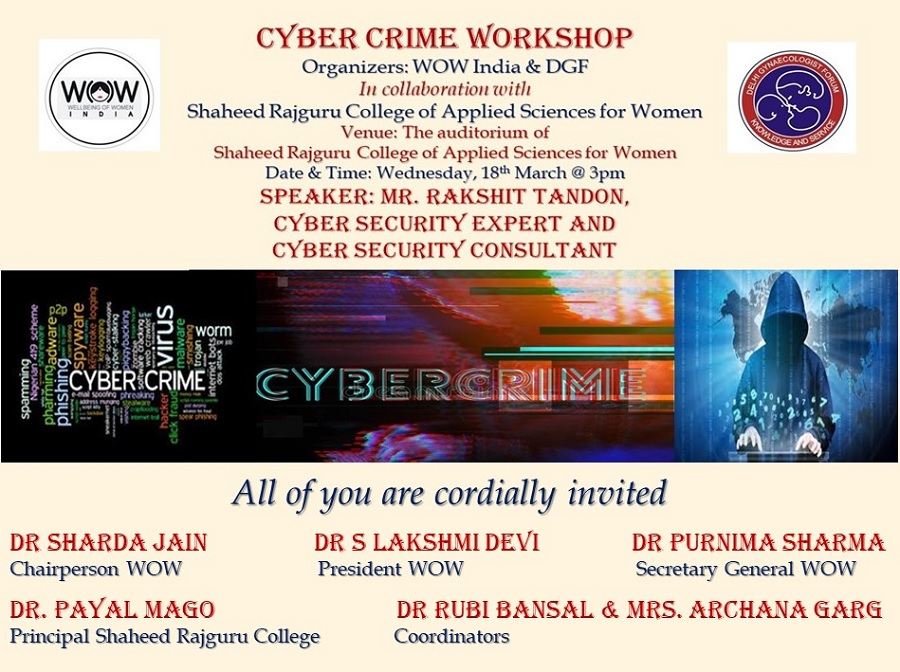 Cyber crime workshop
Dear friends, Cyber-crime is a big threat to everyone in these days, as never before. Specially our young generation is very vulnerable to cybercrimes, as they are used to online purchasing. With the increasing use of the internet technology and social networking site, the cases of the cybercrime are on the rise. use of Facebook accounts in other's names, hacking twitter accounts, sending of unnecessary and suggestive texts, phishing, misuse of personal information are some forms of cyber-crimes which take place through digital devices including computers, tablets and smart phones connected to the internet. People, cops are helpless as cybercrime goes out of control.
Phishing, data theft, identity theft, online lottery, cyber-attacks, job frauds, banking frauds, cyber-bullying – the dark web of cybercrimes is spreading across the world. With increasing mobile coverage and cheaper data, more and more Indians now access the internet even while on the move. This has exposed unsuspecting ones to fall prey to online fraudsters.
We need to be aware about the security measures to protect our bank-accounts and debit/credit cards from such crime threats. WOW India & DGF, in collaboration with Shaheed Rajguru College of Applied Sciences for Women, are organizing a workshop on cyber-crime on March 18, 2020 from 3 to 5pm in the auditorium of Shaheed Rajguru College of Applied Sciences for Women Vasundhara Enclave Delhi 110096 (next to Chilla Sports Complex). Cyber security expert and cyber security consultant Mr. Rakshit Tandon will educate the audience about important security tips regarding cyber-crime and phishing.
Please do attend this highly useful and informative workshop. Send thumbs up in case you wish to register.
Regards:
Dr. Sharda Jain, Chairperson WOW India
Dr. S. Lakshmi Devi, President, WOW India
Dr. Purnima Sharma, Secretary General, WOW India
Dr. Payal Mago, Principal Shaheed Rajguru College of Applied Sciences for Women
Dr. Ruby Bansal & Mrs. Archana Garg, Coordinators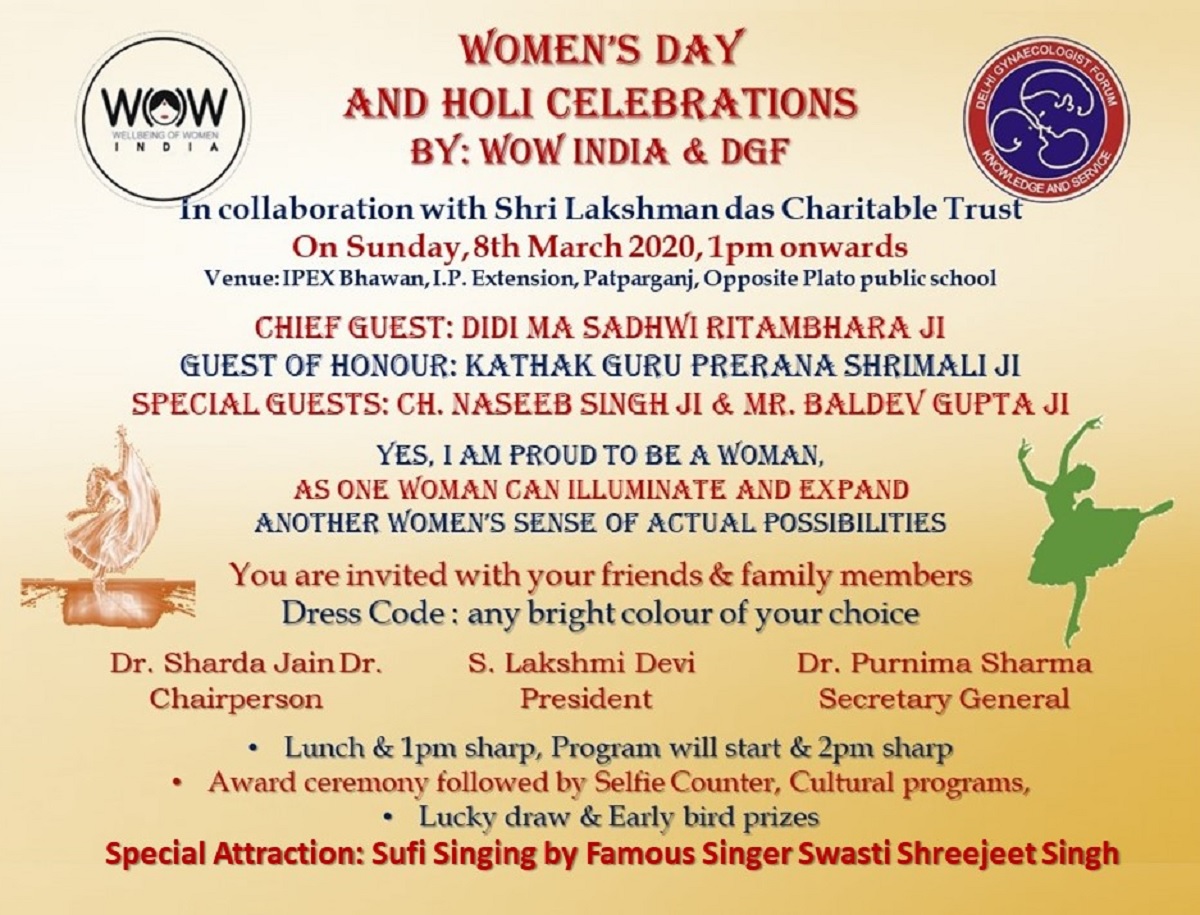 Women's day and holi celebrations
By: WOW India & DGF
In collaboration with Shri Lakshman das Charitable Trust
On Sunday, 8th March 2020, 1pm onwards
Venue: IPEX Bhawan, I.P. Extension, Patparganj
Opposite Plato public school
Chief Guest: Didi Ma Sadhwi Ritambhara Ji
Guest of Honour: Kathak Guru Prerana Shrimali

Special Guests: Ch. Naseeb Singh Ji & Mr. Baldev Gupta Ji


Program Highlights:
Lunch will start at 1pm sharp
• Photo session for the cause of women safety during the lunch time in front of Selfie Counter
• Cultural programs by the members of WOW India and DGF
Program will start @ 2pm sharp
• Award ceremony:
Legendry Award
Excellence Awards (Medical, Social, Music & Arts)
Appreciation Awards (Medical, Social, Music & Arts)
Lucky draw & Early bird prizes for those 100 members whose hemoglobin will be 12 gm or above.
HB test will be done on the spot.
Special Attraction: Sufi Singing by Famous Singer Swasti Shreejeet Singh
You all are invited with your friends and family members
Dress code: Any Vibrant colour
With Regards:
Dr. Sharda Jain (Chairperson WOW)
Dr. S. Lakshmi Devi (President WOW)
Dr. Purnima Sharma (Secretary General WOW)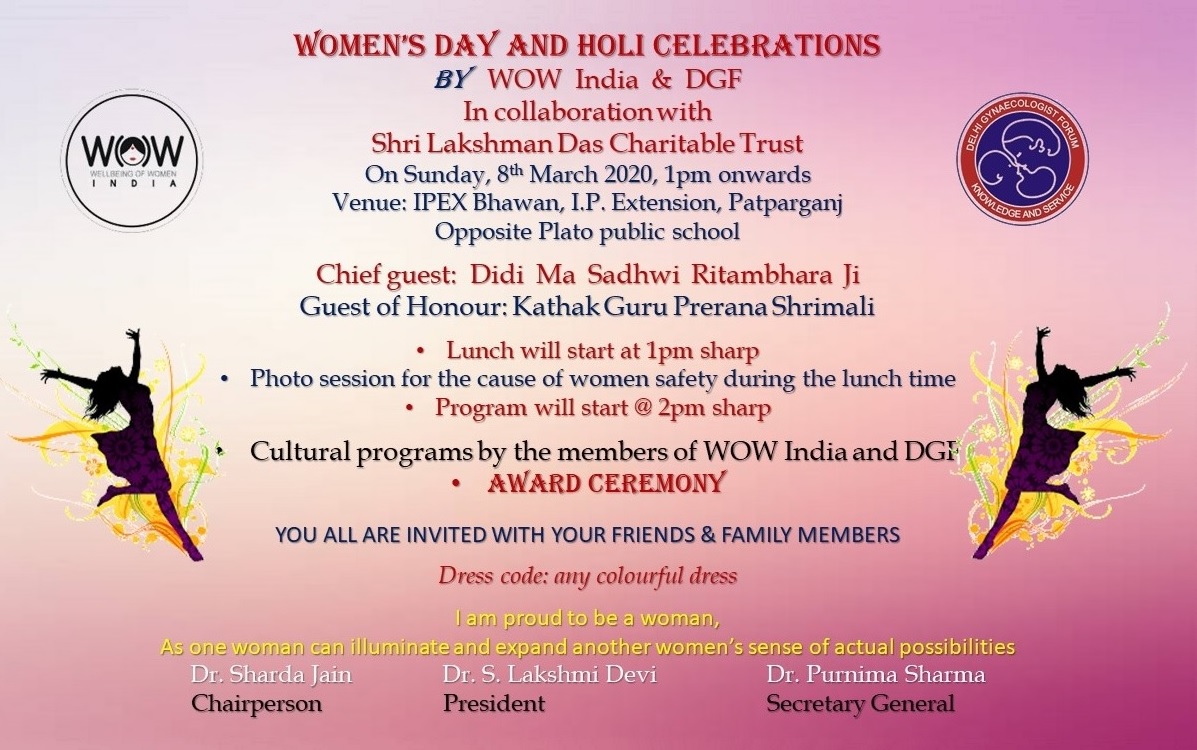 Women's day and Holi celebrations
By: WOW India & DGF
In collaboration with Shri Lakshman das Charitable Trust
On Sunday, 8th March 2020, 1pm onwards
Venue: IPEX Bhawan, I.P. Extension, Patparganj
Opposite Plato public school
Chief Guest: Didi Ma Sadhwi Ritambhara Ji
Guest of Honour: Kathak Guru Prerana Shrimali
Special Guests: Ch. Naseeb Singh Ji & Mr. Baldev Gupta Ji
Program Highlights:
Lunch will start at 1pm sharp
• Photo session for the cause of women safety during the lunch time in front of Selfie Counter
• Cultural programs by the members of WOW India and DGF. Program will start @ 2pm sharp
• Award ceremony:
Legendry Award
Excellence Awards (Medical, Social, Music & Arts)
Appreciation Awards (Medical, Social, Music & Arts)
Lucky draw & Early bird prizes for those 100 members whose hemoglobin will be 12 gm or above. HB test will be done on the spot.
You all are invited with your friends and family members
Dress code: Any Vibrant colour
With Regards:
Dr. Sharda Jain (Chairperson WOW)
Dr. S. Lakshmi Devi (President WOW)
Dr. Purnima Sharma (Secretary General WOW)